Rules and rates for the walking and day care service: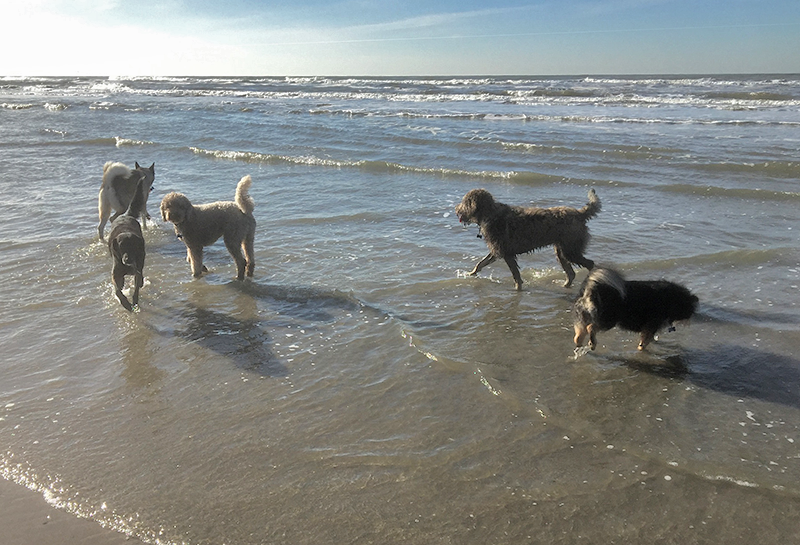 Unsubscribing is possible up to 24 hours in advance, when you call later we will charge you for that walk. You can register the dog until 18:00 the day before the relevant walking day.
To make the walks relaxed and fun for the dog (and for us) we try to keep the groups as balanced as possible, read more about it on the conditions page.
Lupa's Working hours:
Monday through Friday. (For weekends: see below).
Lupa's picks up your dog in the region:
Amsterdam Westerpark, Houthavens and North Jordaan.
Rates:
Group Walk 1.5 hour
1 or 2 x per week €20.-
3 to 5 x per week €19.50
1 or 2 x per week (2 dogs from the same family) €39.00
3 to 5 x per week (2 dogs from the same family) €38.00.
Wednesday

beach walk

On Wednesday we make one long beach walk. Minimum 3 hours outside (9.30 am to ± 4.00 pm) €28.00 per walk.
Solo Walk:
Walk from 1.5 hour €26.50
Two dogs from the same family (walk of 1.5 hours) €51.00.
Weekend walks:
We can also walk your dog(s) in the weekend:
1 walk from 1.5 hour €25.00
1 walk (2 dogs from a family) of 1.5 hour €48.00
For these walks we also pick the dog up, just like during the week.
For puppies and older dogs we have a custom program:
Walk adjusted to group (per dog) €20.-.
Day care 9.00 to 18.00:
Per day €31.50.
3 days or more per week €30.-
Night care from 18.00 to 9.00
Per night € 25,-
Day/night care per 24 hours:
Day and overnight care at our home €46.50.
Multiple days discount: 10% off (minimum period is one week).
Holiday care, day/night care
We can also accommodate your dog, if you are on holiday, at our home.
Price per day €41.85 (minimum period is one week).
Discount Card
Our discount card is for 10 walks and stays valid for half a year.
When you buy a discount card, you get a 5% discount.
The discount card must be purchased in advance. Advertising is not possible.
All prices include VAT.